Who Is Richard Cravy. . . and Why This Blog
Do you like to find something that works as advertised? …And is FREE or very low cost?
I love to find and use free and inexpensive computer software that does something unique for me. I also love to find sources of other good "stuff," whether software, computer hardware, internet hosting, books, etc., which I can use myself and/or share with others.
This blog is being developed to share some of my sources, and some of my favorite things in these categories. Over time we hope to include mini-reviews, full reviews, tutorials, and even a few "best of" lists.
I have also enrolled some fellow geeks to (hopefully) contribute from time to time:
– Aaron Cravy – (www.aaroncravy.com) one of my sons, a co-worker at Sunset Extension School (www.extensionschool.com), and fellow computer geek.
– Rob Hindman – (www.robhindman.com) webmaster for Sunset Extension School and Sunset International Bible Institute (www.sibi.cc), a great friend and the guy who answers most of the tough questions I have about creating a website.
The views and opinions expressed on this website are our own, and are not intended to either offend or curry favor with anyone. We're just 3 computer guys who think we have something useful to contribute.
Who is Richard Cravy? Born in 1948 in the eastern part of Texas, attended Rice University (Electrical Engineering) and Florida College (Bible). Working and serving in church and church-related ministries since 1970. Extensive experience in graphics, printing, computers, and teaching. Married since 1967, with three children and three grandchildren (so far). The picture below, taken in November 2006, shows our clan except for one daughter and son-in-law. I'm the guy in the middle with the gray beard. Aaron Cravy is second from the left.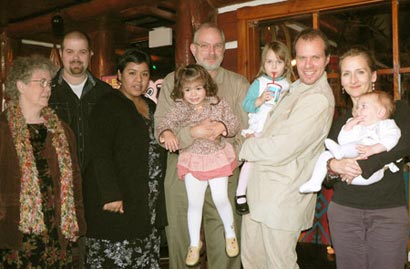 Credit and Attribution:
A number of the header images used on this site came from EveryStockPhoto.com and stock.xchng. Specific credit for the black keyboard photo goes to CD Ceniza. Specific credit for the black and white laptop images goes to float from stock.xchng.