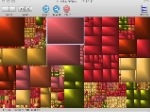 I used to think that a 500GB hard drive in my video production iMac was plenty. Now, not so much. I recently checked and saw that I had less than 100GB free and began to search for what was on my machine that was hogging up all that space. I quickly realized that it was going to be very tedious to click through a bunch of folders and files in order to try and find them. I instead went looking on the Internet for an app for that and guess what? There is an app for that.
GrandPerspective is an app that is designed to scour your hard drive or specific folders and provides you with a graphical representation of your files. As you can see in the screenshot, it shows your files as rectangular shapes. The larger the rectangle, the bigger the file. You can click on the rectangle and at the bottom of the window, the file size, location and name are displayed. You can then click on the Reveal button and a Finder window opens where that file resides. You can then choose to delete the file from the Finder window or if you are confident that you do no want this file on your Mac, you can hit the Delete button from within GrandPerspective.
I was quickly able to locate over 125GB of files that I did not need on the machine and now I have plenty of space for future use. GrandPerspective is a free, open-source application and can be found here for download.