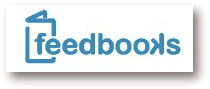 I love my Amazon Kindle. I am also a frugal sort of guy and I prefer not to pay Amazon prices for their books. As a result, I have become pretty good at finding ways to get good, free content on there to read. I found a great site called Feedbooks.com.  According to their site:

Feedbooks is home to thousands of e-books that are in the public domain or have been released with Creative Commons licenses. You can easily find such classics as
War & Peace
,
Dracula
and
20,000 Leagues Under the Sea.
If you want something a little more modern, they have books that have been released for free by authors such as geek hero Cory Doctorow. It's a great way to be introduced to new and old content without having to pay for it.
They support just about any mobile device, including smartphones,  PDAs, iPhones and the Amazon Kindle, among others. The books are also available in PDF format for reading  on your computer if you don't want to take it on the road. While the content and device support is great, the best part for me is the delivery method of Feedbooks. As a Kindle owner, I get access to the Internet for free via the Whispernet service. Once I download the latest Feedbooks "Kindle Download Guide" to the device, I can search the entirety of what is available at Feedbooks. If I see something that I want, I click on the link with the Kindle and it will download that item to my Kindle over the Whispernet service. This means that I can get new content on my Kindle, for free, anywhere that I can get a cell signal. That is just awesome!
Other neat features are the ability to use Feedbooks to generate custom RSS feeds to your Kindle (or other mobile device). This would allow you to get the latest headlines and articles from your favorite sites delivered wirelessly. They also have popular newspapers, magaznes and other content. Go visit Feedbooks, grab a book and get to reading. Your brain will thank you.