We love great Mac software, especially when it comes bundled with other great Mac software. To wit, we've mentioned MacHeist before when they ran a previous software bundle called MacHeist 2 early in 2008. At its core, MacHeist is a way to get a nice array of high quality software for the Mac for a small amount of money. We have purchased the first two bundles and still regularly use a lot of the applications that came in them.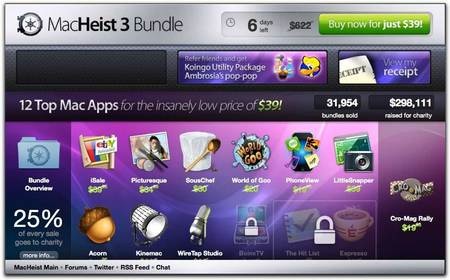 The current bundle includes the following applications:
iSale (SRP $39.95)
Picturesque (SRP $34.95)
SousChef (SRP $30.00)
World of Goo (SRP $20.00)
PhoneView (SRP $19.95)
LittleSnapper (SRP $39.00)
Acorn (SRP $49.95)
Kinemac (SRP $299.00)
WireTap Studio (SRP $69.00) Already unlocked because funds raised for charity exceeded $100,000.
BoinxTV (SRP $199.00) This app is only 'unlocked' when the amount of funds raised for charity reaches $400,000.

The Hit List (SRP $69.95)
This app is only 'unlocked' at a certain point, which is yet to be announced.
Espresso (SRP $80.00)
This app is only 'unlocked' at a certain point, which is yet to be announced.
Big Bang Board Games (SRP $24.95)
This app is only available for the first 25,000 buyers.
As soon as I saw the available software in MacHeist 3, I jumped online and purchased it. The apps that I wanted were Acorn, WireTap Studio and World of Goo. I am hoping that there are enough sales to unlock the last three apps as I am quite eager to use BoinxTV for video tutorial creation and Espresso for some web development.
The asking price is $39 which is actually $10 less than the last 2 bundles and they are donating 25% of the proceeds to charity, which is fantastic. There are 6 days left in the sale, so go get it before its too late!