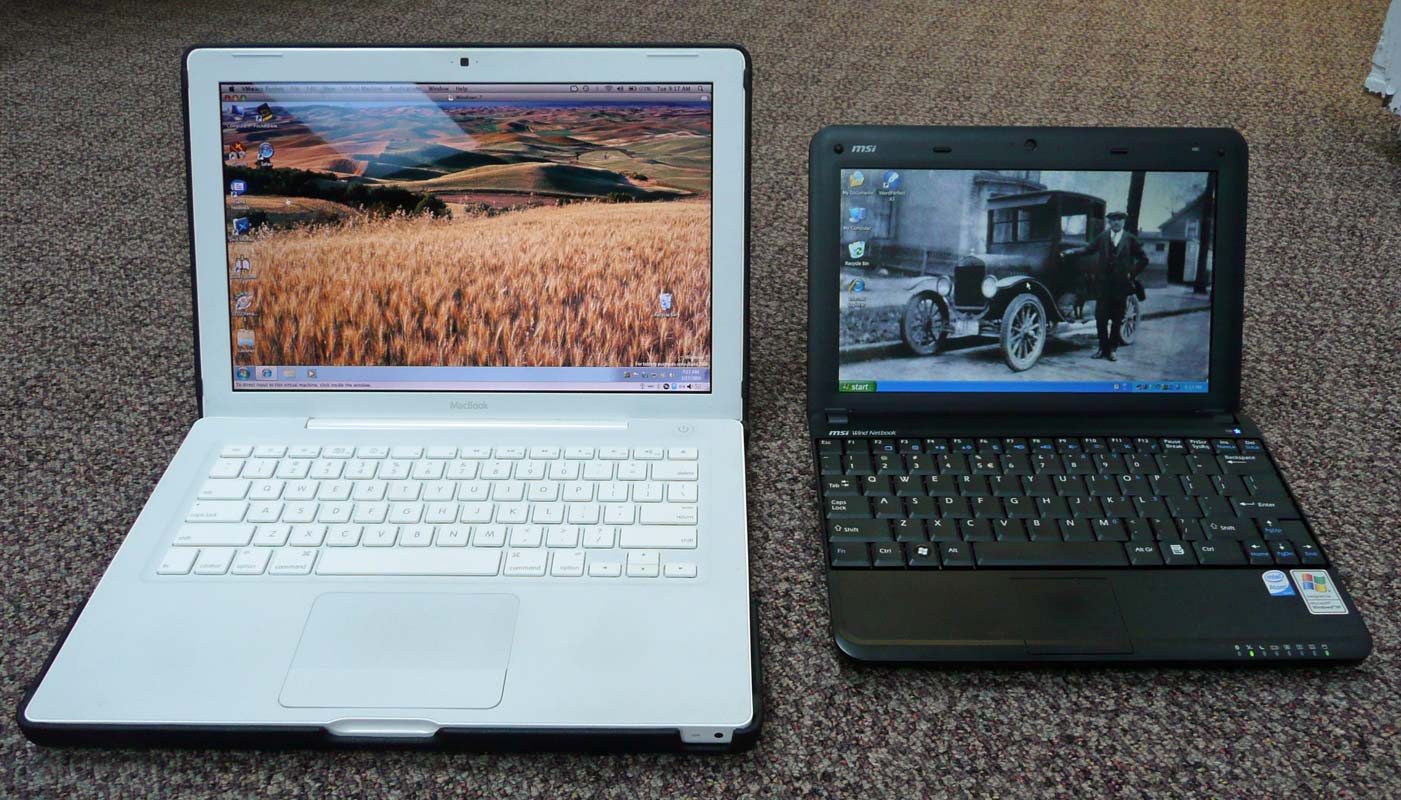 The extra-small notebooks often referred to as "netbooks" are all the rage right now. After waiting patiently for anyone I knew to buy one with no luck, I finally surrendered to temptation and bought one myself. I chose the MSI Wind U100-432us because I found one at a good price and I liked its features.
Once my MSI Wind came in from Newegg, I immediately started using it to see what I did and didn't like. Included with this post are two photos of the Wind together with my 13.3″ Macbook for comparison.
My first impression is how small and light (2.75 lbs) the Wind is. Typing on the keyboard requires more concentration and is a real challenge for touch typists since keys are closer together and some keys are only half sized.
Here are the basic statistics for this particular Wind:

10″ LED backlit LCD screen
6 cell battery for longer operation
1 gig RAM expandable to 2 gigs
Windows XP Home installed
160 gig hard drive
Wireless G
Bluetooth
Glossy black plastic case
3 USB ports, Secure Digital card slot, external VGA and network connections
1.3 megapixel webcam above screen
Having now used it for about two weeks here is what I like:
The screen is bright, colorful and a beautiful 1024 x 600 resolution. The 10″ size is the envy of 8.9″ and 7″ netbook owners!
Keyboard is very usable, though I would not want to write a long document on it
The wireless seems to have good range and is easy to use
160 gig hard drive gives lots of space, especially considering some other netbooks have as small as 4 gig or 8 gig drives
Fellow-geek envy! Everyone who sees it has to touch and try it out.
Battery life with the 6 cell battery seems to be 4.5 – 5 hours
Size and weight — this is much easier to carry and store than even my Macbook. See photos for size difference. In addition the Macbook weighs right at twice as much at 5.5 pounds.
Price – retail for this model seems to be $379 to $429. My Newegg price was better.
I installed a Beta version of Windows 7 (successor to Vista) and it ran great on the Wind even with 1 gig RAM.
What's not to like so much:
The glossy outside is impossible to keep clean of fingerprints. A matte surface would be far better. The area around the touchpad is almost as bad.  Time to invest in a "skin".
Keyboard — of course only a bigger overall size would allow a larger keyboard.
Speed while adequate is definitely impacted when trying to do more than one thing at once. For example, downloading a file from internet while surfing to another website is definitely slower. Either action by itself is okay.
You need an external CD or DVD drive to install more software. Again, putting one in the machine would have increased size and weight. Including one as an external option would have upped the price. Still, you're going to need one!
The Wind is "top heavy" and the extra bulge of the larger battery under the back edge makes it more likely to tip over backwards when either on your lap or on a desk.
Could never find a way to do a dual-boot install of both Windows XP and Linux.
Final Thoughts: I can see why the netbooks as a category are so popular because of their size and value. Nevertheless I would recommend finding someone who already has one similar to what you are interested in, and beg them to let you use it for at least a few minutes. See if you can live with the restrictions of the small screen and keyboard in particular.