Some interesting stories that I came across in my journeys around the Internet today.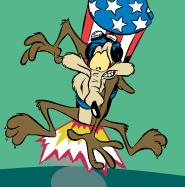 The Original Acme Illustrated Catalog – If you grew up watching Looney Tunes cartoons, then you will recognize many of the ACME products in this catalog. Everything from Anvils to X-Rays and many things in between. (Our image of Wile Coyote strapped on an Acme Rocket is courtesy of www.LooneyTunes.com, which has many free cartoon related items available on their site.)
Asus has been on fire lately, launching a number of low-cost computers including singlehandedly creating the netbook craze with their EeePC. They have now released a desktop line of machines with similar hardware and here is a great review of the Eee Box by the folks at HotHardware.com.
Finally, some sad and somewhat odd news regarding the ashes of everyone's favorite Starfleet Engineer, Scotty. The actor who played Scotty, James Doohan, recently passed on to a universe far, far away and his ashes were to be released into space via a SpaceX rocket. Things did not go as planned and his ashes did not make it to the desired location. If only Scotty had been the Engineer on that mission…